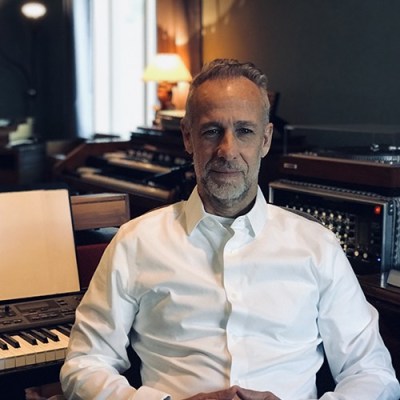 Patrick Warren has accomplished extensive and decades-spanning work with some of the biggest names in music, film, and TV. The Los Angeles-based and award-winning pianist, producer, composer, and arranger kicked off his career in the late 1980s working closely with veteran singer and songwriter Michael Penn, contributing arrangements, composition, and drum programming to Penn's star-making 1989 debut March and playing keyboards on his 1992 follow-up Free-for-All.
Warren continued to work with Penn into the 1990s along with artists like Fiona Apple, Macy Gray, and Tracy Chapman. Since then, he's also contributed to albums from legendary figures like Bruce Springsteen, Bob Dylan, Tom Waits, and Emmylou Harris, as well as some of the most forward-thinking artists of today like Taylor Swift, Alessia Cara, M83, and Cat Power. He's also maintained a longstanding working relationship with legendary songwriter Aimee Mann, touring and recording with her over her accomplished decades-long career. In addition to contributing music to iconic filmmaker Paul Thomas Anderson's Boogie Nights and Hard Eight, Warren also worked extensively with Mann on music for PTA's 1999 epic Magnolia, from which "Save Me" scored an Oscar nomination for Best Original Song. (He even appeared in the film itself.)
As part of a multi-decade collaborative partnership with veteran songwriter/producer Rick Nowels, Warren also worked closely with iconoclastic pop star Lana Del Rey on several projects, including her star-making 2012 debut Born to Die and 2017's Grammy-nominated smash Lust For Life. Most notably, his work with rap luminary Common led to his contributing arrangements and orchestration to the Oscar-winning John Legend collaboration "Glory" from the film Selma, as well as composing the score for three seasons of Showtime's hit drama The Chi. While working on the show, Warren and Common's creative mind-meld led to the creation of an emotional jazz motif that was perfectly juxtaposed with The Chi's Chicago-situated hip-hop soundtrack.
Another trusted collaborator of Warren's is legendary producer T Bone Burnett, who's brought him in as a co-composer on high-profile projects like HBO's critically acclaimed True Detective and FX's buzz-building drama The Old Man. In addition, Warren has racked up film and TV credits on projects like Judd Apatow's hit comedy Knocked Up, Showtime's critically lauded The Affair, and Mo Amer's Netflix series—a thematic breadth of work that only further speaks to his versatility when it comes to providing the perfect sounds and styles for a variety of works. He's also performed live and on tour with artists like Bob Dylan, Diana Kroll, and Tom Waits, and continues to remain in demand when it comes to his multifarious performing approach.