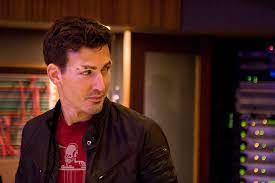 Film and television composer Dino Meneghin combines his passion for sound design with his love of organic orchestral performance.
He is best known for his television scores for MTV's Teen Wolf, adapted from the classic Michael J. Fox films, as well as Netflix Original Anime DOTA: Dragon's Blood, based on the massively popular online video game DOTA 2. 
In addition to his work in television, Meneghin also scored SNL alumni Taran Killan's action comedy feature film Killing Gunther with Arnold Schwarzenegger.
Most recently, he completed Season 1 of Wolf Pack and the Teen Wolf movie for Parmount Plus.
His latest film, Beneath the Grass, will debut in fall of 2023.
Originally from Northern California, at the age of 18, Dino moved to Los Angeles to attend the University of Southern California. After graduating, he went on to work as a guitarist with artists including Beyoncé, Robin Thicke, Liz Phair, Josh Groban, and
Michael Bublé.
Dino lives and works in Los Angeles.