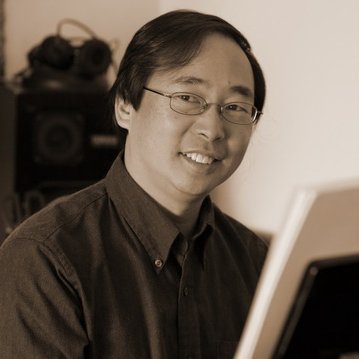 Nathan Wang is one of the most successful composers in Hollywood and Asian cinema. Prolific and versatile, he has written music for Jackie Chan movies, Steven Spielberg documentaries, animated cartoons, operas, musicals, symphonies and more.
Wang's musical journey began with classical music, when he started playing piano at age 3 with his mother's encouragement. His father soon introduced him to jazz artists, and after studying composition with famed composer Morten Lauridsen at the University of Southern California.
After graduating from Pomona College, Nathan received a Fulbright fellowship and a Rotary Ambassadorial scholarship to study post-graduate work in England. Upon returning overseas, he felt very fortunate to collaborate with Hans Zimmer on the music for Steven Spielberg's The Last Days, which won an Academy Award for best documentary in 1999. He was also commissioned to write an opera for Los Angeles Opera, spearheaded by Artistic Director Placido Domingo in 2000. Nathan received an Emmy for "Best Arrangement of a Song" for the award winning Showtime show called Reefer Madness. In 2011, he won another Emmy for the documentary film he wrote The Legend of Pancho Barnes and the Happy Bottom Riding Club.
Nathan has also been very involved in the Chinese film industry, writing scores for various Jackie Chan movies: Rumble in the Bronx, First Strike, Who Am I, and The Myth. He has also worked with many other leading actors in Asia. He was asked to compose for Wang Leehom's movie Love in Disguise, Zhang Ziyi's Sophie Revenge, and Aaron Kwok's Gen X Cops. In addition, he was honored to write for the 2008 Beijing Olympic Games.
In 2011, Nathan was invited by the Beijing DeTao Masters Academy to be a professor for the Academy; he has given lectures, master classes, and interviews about film music that took place in Beijing Central Conservatory of Music and the Shanghai Conservatory of Music.
Along the way, he also began writing music for recording artists like Faye Wong, winning the prestigious Singapore Grammy award for his arrangement of her hit song I'm Willing 我願意. Securing that award opened up many doors and put Nathan in demand by many other Chinese singers: Chang Yu 張宇, Kevin Zhang 張信哲, Vivian Chow 周蕙敏, Tarcy Su 蘇慧倫, Jackie Cheung 張學友, just to name a few.
He has also been a favorite musical director for many artists, in the United States as well as abroad. He has musical directed many shows for Jenny Tseng 甄妮, Alex To 杜德偉, Coco Lee 李玟, Yang ZongWei 楊宗緯, Jimmy Lin 林育群, Su YouPong 蘇有朋, Chen XiaoDong 陳曉東, B.D. Wong, Lea Salonga, Tia Carrere, Kristin Chenowith, Kristen Bell, and David Hyde Pierce.
NingHao 寧浩, the director of Crazy Stone 瘋狂的石頭, Crazy Driver 瘋狂賽車手, has had much success in teaming up with Nathan's work in his box office hits of No Man's Land and Guns and Roses. His underscore can be heard in 張柏芝Cecilia Cheung and 權相佑 Kwon Sang Woo's movie Shadow Lover 影子愛人 and also Dayyan Eng's 伍仕賢 movie Inseparable 形影不離 starring Kevin Spacey and Daniel Wu 吳彥祖.
Nathan has not neglected the musical stage over the years, having written the musical Imelda in 2005, a big hit at EastWest Players Theater in Los Angeles. It ran for an extended eight weeks, and was so popular that it was invited to be produced on off-Broadway four years later. It had a successful run at the Julia Miles Theater.. He also collaborated with award winning American playwright Velina Hasu Houston to write the musical Cinnamon Girl, which was produced at the Greenway Court Theater in 2014. Its success in Los Angeles took this production to China, where it was performed at Beijing University that same year. Because of Nathan's reputation and the popularity of this musical at the University, he was asked to write two more musicals for Beijing University, in 2018 and this year: Cai Yuen Pei 元培校长, a classical story of the founder of the University, and Birds of Paradise 小鸟天堂, a fable told in a fantastical setting about today's all important issue of climate change. In 2019, Nathan was commissioned to write a musical called Papa Can You Hear Me Sing 酒干倘卖无, based on a very popular Taiwan movie. It had a successful run in Beijing, and ultimately toured the country in 14 cities.
Bouncing back and forth, Nathan enjoys working on both sides of the Pacific. He just finished scoring a movie One True Loves, based on the best selling novel by Taylor Jenkins Reid and starring Simu Liu (Shang-Chi) and Phillippa Soo (Hamilton). Nathan is now working on a 24 part Chinese television drama called Ordinary Hero 他是谁 which features Jiang Yi (张译), as well as a Chinese movie called I Hear You Please Reply, 听到 请回答, which stars Wang Qian Yuan 王千源and Jiang Qin Qin 蒋勤勤.