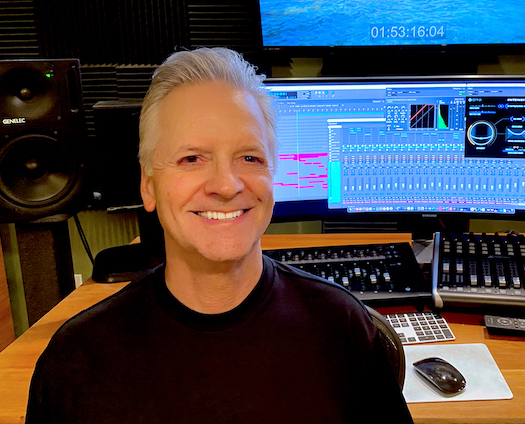 David Williams was born in Macomb Illinois and was raised in St. Louis Missouri. He comes from a very musical family as his father played trombone and violin professionally and his sister and brother both played the piano and guitar. David went on to graduate from Missouri State University and then had Graduate studies at North Texas University in Composition and Orchestration. He also was awarded a Private Study fellowship with celebrated Oscar-winning composer John Corigliano (ALTERED STATES, THE RED VIOLIN).
In his early 20's he played Piano and Guitar in many Jazz groups. His music for films and television covers a wide stylistic range and facile command of both orchestral and electronic composition. He is at home with thrillers, dramas, and romantic genres.
He has worked with some of the biggest names in the industry including Francis Ford Coppola on MGM's SUPERNOVA (Angela Bassett, James Spader, Robert Forster). He recently scored AMC's thriller THEY LIVE IN THE GREY directed by AMPAS Nicholl Screenwriter Award Winners, The Vang Brothers.  
 
Other films he has scored include Miramax's PHANTOMS (Ben Affleck, Liev Schreiber, Rose McGowan), the action feature MALONE (Thomas Jane, Elsa Pataky) Directed by Russell Mulcahy (HIGHLANDER) and Produced by Brian Oliver (BLACK SWAN), Sony Pictures drama NO WAY BACK (Russell Crowe), the romantic drama BROKEN MEMORIES Produced by Gary Levinsohn (JACK REACHER, SAVING PRIVATE RYAN), Paramount+ action thriller NIGHT OF THE SICARIO, the thriller FREEZER (Dylan McDermott, Peter Facinelli) Directed by Mikael Salomon (BAND OF BROTHERS) Produced by Mark Manuel (HACKSAW RIDGE), Disney's fantasy FALLEN (Paul Wesley, Bryan Cranston), FX's drama A GLIMPSE OF HELL (James Caan, Robert Sean Leonard), Dimension's cult favorite THE PROPHECY (Christopher Walken, Viggo Mortensen, Virginia Madsen), and many other films.
David is an ASCAP Award Winner and a member of the SCL.